OUR PATENTS
I - BAND
I-BAND is the innovative finishing patented by Norman Srl that, applied instead of usual waistband, redistributes the fabric in a more performing way, enhancing the adherence of seamless items. By applying I-BAND it is possible to modify the quantity of fabric used to create the front or the back part of the item, adding wearability where needed.
WHAT IS IT?
It's a patented finishing created to increase items wearability and adherence.
HOW DOES IT WORK?
The application of I-BAND allows to completely redistribute the fabric of the tubular item, maintaining unchanged its features, design and wearability.
BENEFITS
- Better performances
- Applicable to any kind of fabric
- Better wearability
- It remains unchanged all time long
APPLICATION
I-BAND finishing can be applied to any kind of item: tops, leggings, t-shirts and briefs.

TO COMPARE
In traditional seamless items front and back part of the waistband are made with the same quantity of fabric.
With I-BAND the amount of fabric used for the back part is increased in order to enhance items wearability.
WITHOUT I-BAND

UPPER PART

WITH I-BAND

WITHOUT I-BAND

BOTTOM PART

WITH I-BAND
I - SOFT
I-SOFT is Norman Srl patent which revolutionises the use of technical fibres in realizing seamless items. Applied to any kind of fabric, it does not change its technical and functional features, but it gives the item warmth, softness and texture just similar to natural fabrics.
WHAT IS IT?
I-SOFT is a specific treatment that modifies the fabric fibre to which the treatment is applied, adding a heating effect. It enhances:
- Thermoregulation
- Humidity elimination
- Breathability
- Thermoisolation
HOW DOES IT WORK?
I-SOFT creates an isolating and thermoregulating barrier which maintains unchanged body temperature and humidity during physical activity.
BENEFITS
- Softness, warmth and comfort on the skin
- Possible application to any kind of fabric
- Unchanged performances all time long
- Item features resist to washings and frequent use
COMPARISON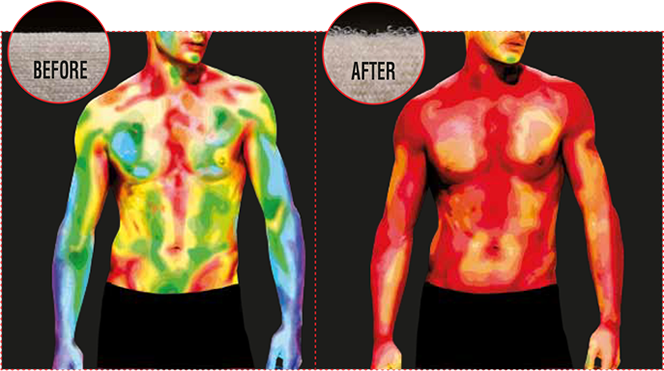 APPLICATION
In order to guarantee the best result and a functional isolation, I-SOFT must be applied to the internal part of the item, in close contact with the body. This treatment is suitable for knitwear, hosiery, sportswear, but also leggings and in general items to put in close contact with the skin and with cold temperatures.